The All New Razer Blade 2014 vs MSI GS60 Ghost – Which Ultra-Thin Gaming Laptop Is Better?
MSI and Razer have been competing on who has the best ultra-thin gaming laptop for quite some time. And now both company has recently released their all-new gaming machines powered with a 4th generation Intel Haswell processor and the next-generation NVIDIA GeForce GTX 800M series discrete graphics processor, plus some new features. MSI has updated its GS60 and it's now the MSI GS60 Ghost featuring a GeForce GTX 860M, while Razer has the all-new Razer Blade 2014 powered with a GTX 870M discrete graphics processor plus a stunning QHD+ display. Which gaming laptop is better and which one should you buy? Find out below.
MSI GS60 Ghost vs New Razer Blade 2014
Processor and Memory
Both gaming laptops are powered with the latest Intel Core i7 Quad-Core Haswell processor. The MSI GS60 Ghost is powered by a Core i7-4700HQ clocked at 2.4GH, while the new Razer Blade has the Core i7-4702HQ clocked at 2.2GHz. While both processors are different, the performance differences on both processors are really insignificant in real-world use. Both also run on the latest Windows 8.1 64-bit operating system.
However, the MSI GS60 Ghost has twice the memory size of 16GB, while the Razer Blade 2014 has only 8GB. 8GB is pretty much sufficient to play most of the games today, even graphics extensive games. However the 16GB will have an advantage when running applications that require a lot of memory.
Display and Graphics Card
The MSI GS60 Ghost has a nice 15.6-inch Full HD display with an anti-glare feature, and graphics are handled by the latest GeForce GTX 860M with 2GB GDDR5 memory. However the new Razer Blade 2014 has a better display with its 14-inch QHD+ IGZO/IPS display at 3200×1800 resolution, not to mention it's also a 10 point multi-touch capacitive display. Its graphics are handled by the GTX 870M with 3GB GDDR5 memory and Optimus technology.
Generally, the Razer Blades 2014 has the advantage when it comes to display and graphics processing. But that may not be the same case when it comes to gaming. You see, there is no huge performance difference between the GTX 870M and GTX 860M. However when playing at 3200×1800 resolution that will stress the graphics processor a lot, and the GTX 860M might have an advantage since it only needs to handle a 1080p display.
Storage
The new Razer Blade 2014 comes in either 256GB or 512GB SSD in the M.2 form factor. Meanwhile the MSI GS60 Ghost comes with a 128GB SSD (in Super RAID with 2 SSD in RAID0 and most probably upgradeable to a higher capacity) plus a 1TB 7200 RPM hard drive.
Other Features
Both ultra-thin gaming laptops have good stereo speakers. MSI has Audio Boost while the Razer has Dolby Digital Plus Home Theatre Edition. The MSI GS60 Ghost has a SteelSeries keyboard with an anti-Ghosting keyboard, while Razer has a chicklet still keyboard also with anti-ghosting. Both have dual-band WIFI wireless connectivity and Bluetooth 4.0. But I am not sure if Razer has special packet management software for gaming. Because MSI's gaming laptops are powered with Killer E2200 LAN which prioritizes gaming connections compared to a regular LAN port. If Razer doesn't have this kind of feature then the MGSI GS60 Ghost has better network connectivity for gaming. Other specifications differences can be seen in the table below.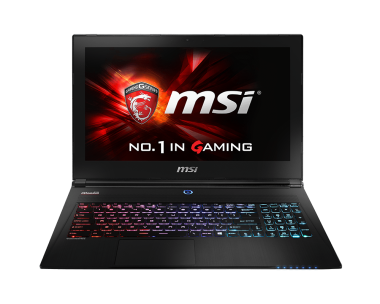 Specs vs Specs
Specifications
MSI GS60 Ghost-003
Razer Blade 2014
Operating System
Windows 8.1 64-bit
Windows 8.1 64-bit
Processor
Intel Core i7-4700HQ 2.4 GHz
Intel Core i7-4702HQ 2.2GHz
Memory
16GB DDR3L SDRAM
8GB DDR3L-1600MHz
Graphics Processor
NVIDIA Geforce GTX860M with 2GB GDDR5 VRAM
NVIDIA Geforce GTX870M with 3GB GDDR5 VRAM, Optimus Technology
Display
15.6″ Full HD (1920×1080), Anti-glare
14″ QHD+ at 3200×1800 LED Backlight, 10 point capacitive multi-touch
Storage
128GB SSD + 1TB 7200 RPM HDD
256GB / 512GB SSD M.2
Webcam
Full HD 30fps @1080p
HD 2.0 MP
Card Reader
SD4.0 (XC/HC)
None
LAN
Killer E2200 LAN
Ethernet Port
Wireless
WiFi 802.11 ac Dual Band, Bluetooth 4.0
Intel Wireless-AC 7260HMW (802.11 ac + Bluetooth 4.0)
Ports
HDMI 1.4
3x USB 3.0
Mini DisplayPort 1.2
1x Mic-in / 1x Headphone-out
HDMI 1.4
3x USB 3.0
DisplayPort
3.5mm microphone/headphone combo port
Dimensions
390mm x 266mm x 20.05mm
345mm x 235mm x 17.8mm
Weight
1.96Kg with battery
2.03 Kg
Battery
6-Cell Li-Polymer(4840mAh 52Wh)
Built-in 70Wh rechargeable lithium-ion polymer battery
Features
SteelSeries Keyboard
Aluminum Body
Xsplit Gamecaster
Dynaudio Premium Speakers
Razer Synapse 2.0
Multi-point Touchscreen
Backlit anti-ghosting keyboard
Array microphone
Price and Where To Buy
Visit respective links below for the updated prices of the Razer Blade 2014 and MSI GS60-Ghost-003:
If you are from around the UK, you can get a Razer Blade 2014 here, or the MSI GS60 2PC-005UK GHOST here and the MSI GS60 2PE-060UK here.
Again the MSI GS60 Ghost-003 is the winner when it comes to pricing. Don't get me wrong though, the Razer Blade 2014 is not a bad product. It's a fantastic gaming machine. But the problem is it's more expensive than its competitor. I guess you have to pay the price for the "premium-ness" of these machines.
So which is your gaming machine? I've added a few videos below to help you get a better look at both the MSI GS60 Ghost and the new Razer Blade 2014. There isn't much review yet since both products are still very new.
The New Razer Blade 2014 Preview
MSI GS60 Ghost Reviews
The MSI GS60 Ghost review below is courtesy of GenTechPC. This is a detailed review from unboxing to benchmarks, temperatures, and disassembly of the GS60 Ghost.

Here's another video courtesy of TweakTown.