EVGA SC17 4K Gaming Notebook with GeForce GTX 980M Unleashed – See Specs, Features and Price
EVGA decided to enter the mobile gaming market and recently announced their first gaming notebook – the EVGA SC17. The new EVGA SC 17 gaming notebook features a slim profile with a nice 17.3-inch 4K UHD display and is powered with an Intel Core i7-6820HK (unlocked) paired with an NVIDIA GeForce GTX 980M discrete graphics processor. A GTX 980M might not be sufficient enough for a 4K gaming experience, but you can always change the resolution or the game details when gaming to increase your fps rate. Even a full pledge GTX 980 Ti isn't enough (on some games at max settings) to deliver 60fps on a 4K UHD resolution desktop setup. But the EVGA SC17 is still one heck of a mobile gaming machine. There are more beefy components installed on the SC17, check them out below.
EVGA SC17 Gaming Notebook Features
Introducing the first-ever laptop that is 100% designed in house by EVGA, the EVGA SC17 Gaming Laptop. This new 4K ready, high-performance laptop was meticulously created from the ground up for the hardcore gamer, performance enthusiast, and even overclocker. No shortcuts here. It all starts with power, an in house EVGA designed power supply with a new unique form factor helps deliver up to 240 watts of power when needed, without compromising battery life.
An Intel Core i7 6820HK CPU that is unlocked and capable of being overclocking to 3800 MHz and beyond, combined with an NVIDIA GeForce GTX 980M, also capable of being overclocked, lets you get the performance you always wanted from a gaming laptop. Did we mention that the EVGA SC17 Gaming Laptop is built for overclocking? A FULL GUI BIOS with full mouse control gives you complete control over all aspects of performance, voltage and advanced settings right at your fingertips. Not to mention, a Clear CMOS button directly on the chassis, this is the world's first TRUE overclocking laptop.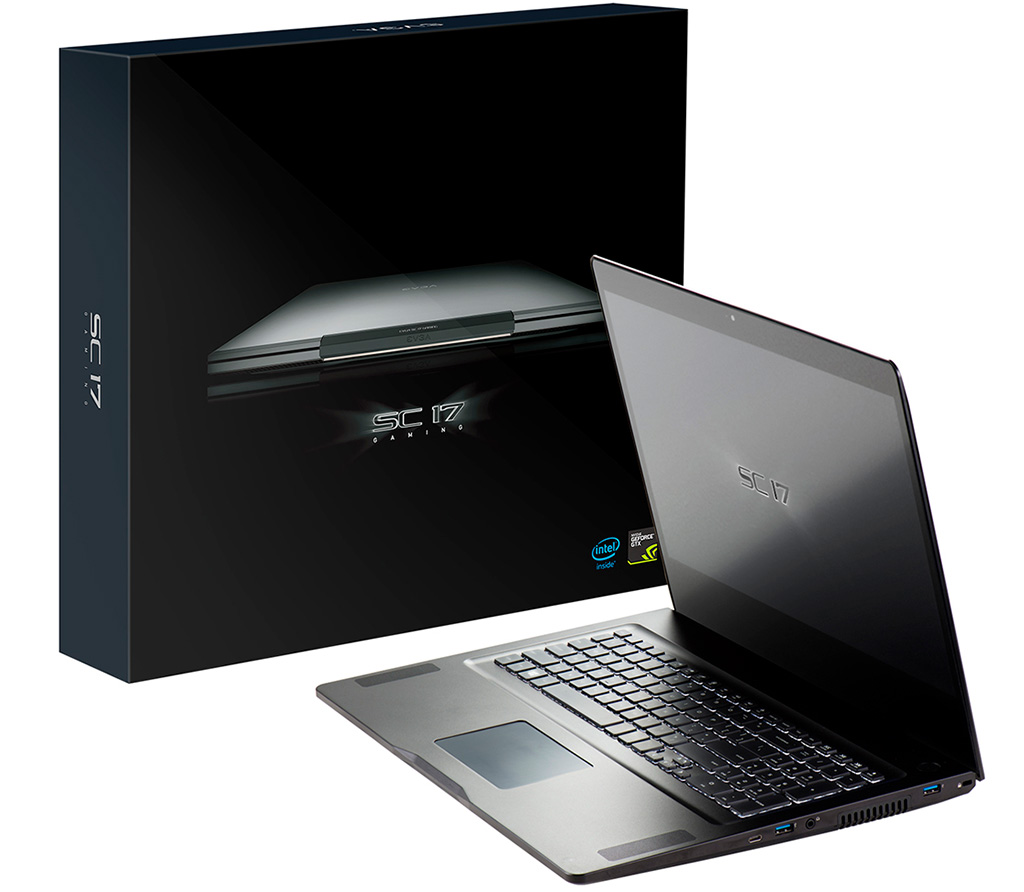 A sleek design rounds out the package with a full unibody chassis, and slim design that is under 1.05in at its thickest point. This is just the beginning. USB 3.1 Type C, excellent sound with an integrated subwoofer, and a beautiful 4K 17″ display is what you get when you cross performance with art.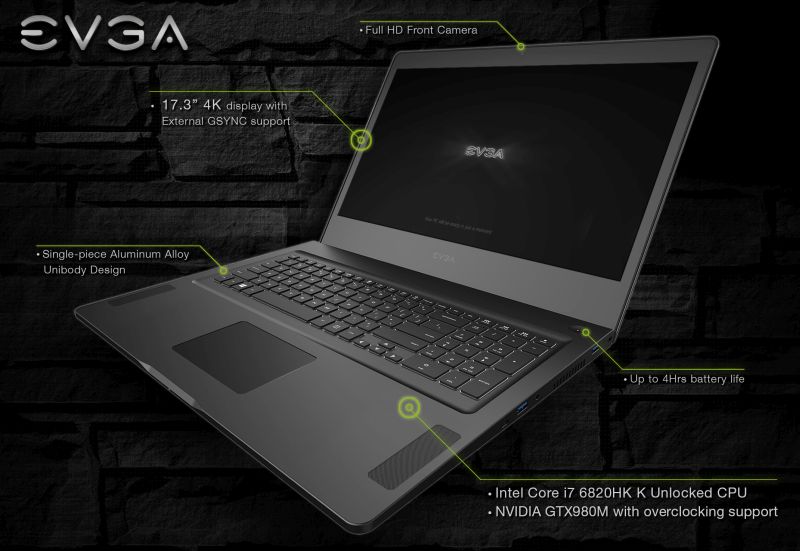 EVGA SC17 Key Features:
Unibody Design – A sleek design and thin 1.05in thickness mean this is one of the sleekest laptops around.
4K UHD Display – A Sharp IPS display capable of delivering up to 4K resolution for crystal clear graphics.
Incredible Hardware – EVGA is known for performance hardware, and the EVGA SC17 laptop is no exception. An Intel Core i7 6820HK Unlocked processor combined with an NVIDIA GeForce GTX 980M graphics gives you unbelievable performance in the latest games.
Built to Overclock – Overclocking on a laptop? It seems like a myth, but we have nothing to hide here. A full GUI BIOS with full control over CPU Multipliers, Voltage, Memory Timings, Frequency, even GPU overclocking right inside the BIOS. It also ships with EVGA PrecisionX mobile for complete control in Windows also!
BIOS – The EVGA SC17 Gaming Laptop ships with a REAL BIOS. This means full GUI support including mouse, complete control over all overclocking features such as CPU.
EOC (EVGA Express OC) – Overclocking at your fingertips, overclock on the fly with up/down arrow keys allowing you to enable Superclocked performance, or downclock mode to improve battery life. Also, cycle through preset overclocks to find the best performance for the situation.
EVGA PrecisionX Mobile – The power of EVGA PrecisionX, now mobile with EVGA PrecisionX Mobile. Tweak your overclock settings, overclock hotkeys, profiles, and CPU overclocking right at your fingertips. EVGA PrecisionX mobile can even enable/disable laptop backlighting and keyboard lighting!
Price and Availability
The EVGA SC17 Gaming Notebook will become available starting mid-April.
ECGA SC17 Gaming Notebook Specifications
Processor
Intel Core i7-6820HK
Memory
32GB G.Skill DDR4-2666
Graphics Card
GeForce GTX 980M 8GB
Storage
256GB M.2 NVMe PCIe SSD
1TB 7200 RPM SATA 6G HDD
Display
Sharp 17.3 inch UDH 4K with matte finish
Connectivity
2x USB 3.0 Type-A
1x USB 3.1 Type-C
Intel 219-V Gigabit Ethernet
Intel AC-8260 802.11ac
Bluetooth 4.2
Audio
Realtek ALC 255
Integrated Subwoofer
Video
1x HDMI 1.4
2x mini DisplayPort (1x G-Sync support)
Dimensions
16-in x 11.6-in x 1.05-in
Operating System
Windows 10 Home