Acer Aspire V Nitro Gaming Laptop Reviews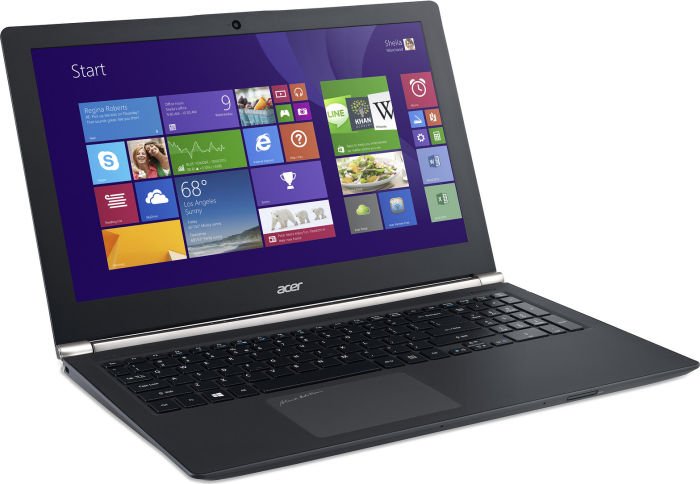 Acer's latest gaming laptop is the Acer Aspire V Nitro Black Edition, available in both 15-inch and 17-inch models. This thin and sleek gaming machine features a minimalistic design and slim profile. But it is loaded with features that are pleasing to mobile gamers and pro-consumers who are looking for a fast mobile gaming machine. Are you in the market looking for a slim gaming laptop? Check out more details about the Acer Aspire V Nitro below, as well as reviews.
Acer Aspire V Nitro Gaming Laptop Features and Specs
The Acer Aspire V Nitro gaming laptop is designed to handle your entertainment needs, specially graphics-intensive and multimedia applications. It features a simple and minimalistic design with a matte black finish. It's available in both 15-inch and 17-inch models; with the 17-inch having a Full HD (1920×1080) IPS panel, while the 15-inch is available in both Full HD and 4K UHD variants.
The Aspire V Nitro can be divided into two groups; the 15-inch variants and the 17-inch variants. There are actually a number of different Aspire V Nitro models available and not all of them have the same specifications and performance. At the time I posted this article, The Aspire V15 Nitro can be powered by an Intel Core i7-5500U (Dual Core) with integrated Intel HD5500 Graphics (Shared memory), or the more powerful Intel Core i7-4710HQ (Quad Core) Haswell processor. Meanwhile the Aspire V17 Nitro can be powered by an Intel Core i7-4710HQ or the newer i7-4720HQ. The memory is available from 8GB up to 16GB DDR3 or DDR3L SDRAM.
The Aspire V15 Nitro that is powered with the latest Core i7-5500U Broadwell processor does not come with a discrete graphics processor. You will have to go with the model that is powered by a discrete graphics processor, either GeForce GTX 860M, GTX 950M, or GTX 960M. Otherwise, you won't be able to play modern day games with it. For storage options, it's available with a 1TB or 2TB HDD, or a combination of both 128GB (256GB) SSD + 1TB HDD
The keyboard is pretty much a standard notebook keyboard with a numeric keypad, and it features back-lighting. Typing in a dark room or low light situation shouldn't be a problem not unless you are not fond of red backlights. For input/output and connectivity options you get 3x USB 3.0 ports, an HDMI port, 3.5mm line out, SD card reader, Gigabyte Ethernet port, WiFi 802.11ac with Bluetooth and a Webcam.
If you want the best model for gaming, I would suggest that you go with the model that comes with a GeForce GTX 960M discrete graphics processor and Intel Core i7 Quad Core processor. The Aspire V Nitro VN7-591G-729V comes with a nice 15.6-inch 4K UHD display, and it's really a fantastic display. Unfortunately you will not enjoy playing games at 4K since the GTX 960M is not powerful enough to play games at 4K resolution. You can play games with this model but you will have to tone down graphics settings or switch to 1080p resolution when gaming.
The Aspire V15 Nitro measures 15.3″ x 10.1″ x .9″ and weighs around 5.29lb, meanwhile the Aspire V17 Nitro measures 16.7″ x 11.5″ x 1″ and weighs around 6.61lb.
Price and Where to Buy
All models of the Aspire V Nitro (Black Edition) might not be available at one time. For the latest pricing and availability check out their current prices and the models available at Acer US Online Store or B&H Photo Video.
Acer Aspire V Nitro Gaming Laptop Reviews
The Acer Aspire V Nitro Gaming laptop review below is courtesy of Booredatwork.com:
The Aspire V15 Nitro Black Edition review below is courtesy of LaptopMedia: