Acer Aspire P3 Ultrabook – First Convertible Ultrabook
Acer released the Acer Aspire P3 Ultrabook, an ultrabook that easily transforms into a tablet. With its unique design, mobile users no longer have to decide whether they should go for a notebook, a tablet or an Ultrabook. Of course, to take advantage of its touch capabilities, it runs on Windows 8 operating system. Check out more details below.
UPDATE: The Acer Aspire P3 is now available. It comes in two models, the cheaper one powered by a Pentium 2129Y, and the better one, powered by Core i5-3339Y. See their respective prices below, and where to buy one.
The Acer Aspire P3 Ultrabook is only .77 inch thick and weighs only 3.06 pounds. Just like an Ultrabook, it delivers excellent performance and long battery life. And since it's like a tablet, users can enjoy the benefits of touch-enabled apps.
Acer Aspice P3 Specifications
Operating System: Windows 8
Processor: Dual-core 1.4GHz Intel Core i3 or Intel i5
GPU: Intel HD 4000
Memory: 2GB or 4GB of RAM
Internal Storage: 60GB / 120GB
Display: 11.6-inch LCD at 1366 x 768 pixels resolution
Dimensions: 11.63 x 7.5 x 0.39 inches
Weight: 28 oz
Connectivity: Bluetooth 4.0, WiFi 802.11 b/g/n, USB 3.0
Cameras: 1.2 megapixels front and 5 megapixels rear
SD Card slot: Yes
Maximum Battery Life: 6 hour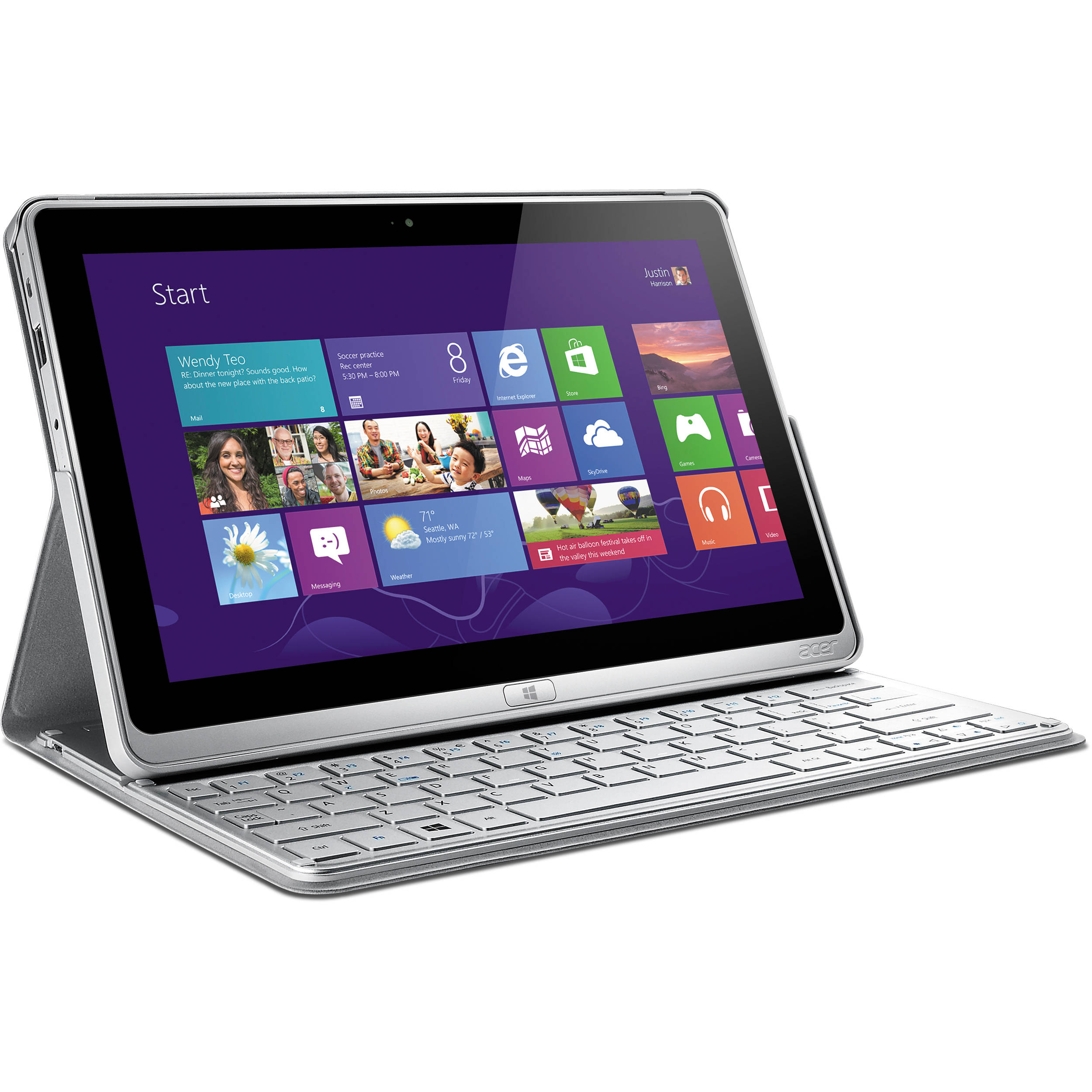 Acer Aspire P3 Features
The Acer Aspire P3 provides true Ultrabook performance, so customers can use it as their main PC for handling everything from everyday computing tasks to more demanding ones such as creating presentations and sharing multimedia content. The new mobile powerhouse can also run multiple apps, such as video conferencing while reviewing spreadsheets and documents, further boosting productivity.
The responsive and fast Intel Core i3 and Core i5 processors deliver the performance needed to take on these tasks while providing more efficient power consumption for longer battery life of up to six hours. Closing the case puts the Acer Aspire P3 into sleep mode, and opening it wakes up the device in only a few seconds. Since it runs Windows 8, it can handle Office programs as well as legacy Windows programs that are important for many businesses.
The chiclet keyboard built into the cover is full-sized, so customers can comfortably use it for productivity tasks such as writing documents and creating spreadsheets. The Acer Aspire P3 comes with an optional stylus that fits in the case for customers who want the convenience of pen-based input. Plus, it comes with a full-sized USB 3.0 port so customers can conveniently connect a mouse, printer, and other consumer devices.
These features make the Acer P3 ideal for businesses that are outfitting their mobile workforces, as well as schools or consumers who work in Office applications. The Acer P3 would make an excellent option for Bring Your Own Device (BYOD) initiatives that are becoming more popular at businesses and schools.
Optimized for entertainment, the Acer Aspire P3's 11.6-inch HD display with IPS technology highlights video, photos and other multimedia in brilliant and accurate color and clarity. The wide-screen design beautifully highlights movies, and multiple people can enjoy entertainment on the go thanks to the display's wide 170-degree viewing angles. Dolby Home Theater boosts sound for headphones as well as built-in speakers. Audio and video on the Acer P3 can be shared with additional displays via its HDMI port. The built-in Acer Crystal Eye HD webcam captures video in 720p HD, bringing life to video web chats, while the 5MP back camera captures photos in high resolution. The new Ultrabook features a 60 GB or 120 GB SSD for powering on the device and retrieving data quickly and securely.
Price and Availability
The Acer Aspire P3 has a suggested retail price (SRP) and you can check from below. And should be available immediately after its official announcement. Of course, we will have to wait for a few days or weeks before online stores stock them, as well as local stores.
UPDATE: It's now available guys. Check out their respective initial specs below, price, and where you can get one.
Acer Aspire P3-131-4833
Pentium 2129Y 1.1 GHz (2 MB Cache)
2GB DDR3
60 GB Solid-State Drive
11.6-Inch Screen, Intel HD Graphics
Windows 8, 6-hour battery life
Only $579.52 here
Acer Aspire P3-171-6820
Core i5-3339Y 1.5 GHz (3 MB Cache)
4GB DDR3
120 GB Solid-State Drive
11.6-Inch Screen, Intel HD Graphics
Windows 8, 6-hour battery life
Only $799.99 here